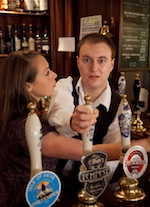 A new romantic comedy by Alistair Rutherford
Is true love just another conjuring trick?
Passing Through is set on a wet winter's night. At the Dockers Social Club there's been a terrible mistake. They booked 'The Ace of Spades' thinking it was a Motorhead tribute band but they got Tommy the Magician instead. Tommy made a sharp exit and is nursing a pint and a bruised ego in the pub down the road when Alice stomps in from the rain. She's soaked, been stood up and that's it, she's had it for ever with romance.
What neither of them know is that some magic might just be around the corner. Or is true love just another conjuring trick, a sleight of hand?