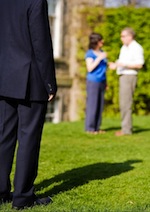 A play by Alistair Rutherford
You can love someone too much
One hot summer's day a man walks, uninvited, down the path at the side of a house and into the large garden at the back. Alarmed at first by his presence, the owners slowly discover why he has come to their home.
"The Garden" is a tense new drama from Alistair Rutherford (BBC Radio 4, BBC Radio Scotland) about families and the secrets we keep to protect them.
This open-air production will be touring to gardens in Scotland and England in Summer 2011.