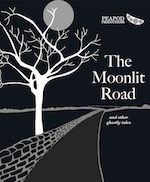 Inspired by Ambrose Bierce, Edgar Allan Poe, M.R. James, Emile Zola, and many others.
Touring to theatres throughout Scotland October-November 2014.
A young man crouches in the corner of his bedroom late one night and waits. He waits. He waits, for something terrible to come for him.
This town is the home of many a strange tale. Disturbing events, skeletons in closets, things half glimpsed.
But our young narrator isn't afraid. Because his own tale is perhaps the strangest and most disturbing of the lot...